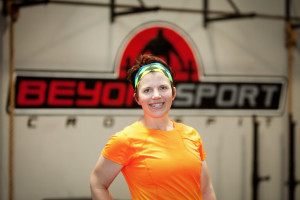 You know that Pitbull song Shake Senora where he proclaims "My girl got a big ol' booty." Yeah, my kids have changed the lyrics to "My Mama got a big ol' booty!" I'm not kidding you. This is now known as my song at my box.
My four year old wasn't paying attention when he was running behind me into a store recently. I stopped and he ran smack into me and literally bounced off and landed on the floor.
It is true, I was blessed with an ample back side on a shorter frame. My brothers got the height in the family. My whole life I've wanted a smaller booty. Before I discovered CrossFit my goal was decreasing the measurements of my butt and thighs. Before CrossFit I had worked myself down to an 11/12 through doing several years of spinning and Bootcamps. This is still a 'big girl' size to some, but that was small for me. My weight loss journey has had me fluctuating from my smallest in high school of 16-18 up to my biggest of 26-28 after college. So, I was really happy to maintain that size. However, things just got real after almost two years of increased time with a barbell busting my behind at the gym.
Curvy cut jeans from Maurices are they only kind I can buy. Skinny jeans just don't and will never fit over these calves. I've had to buy smaller and smaller shirts with a significant decrease in my chest in the last year. Ok, I can pad those babies if need be. Then recently I had to say goodbye to dress shirts with fitted sleeves. Stretchy fabric is a good thing. Minnesota winters allow for sweaters. I'm ok.
The newest twist to my tale of clothes woes involves a forgotten bag I found in the bottom of my closet this past weekend. In this bag were two pairs of pants that I bought sometime in 2013. I was going to take these pants to the tailor to have them taken in a bit but never got there apparently. I tried on a pair Monday to see what exactly I needed to have done again. Out of sight out of mind. Hmmmmm, this is interesting, they fit pretty well now. I tried on the other pair this morning for work. They also fit very nicely. This is good and kinda bad news. Good that I don't have to spend money having them adjusted, and sad that I now fill out my pants that I once thought needed a little tuck to fit better. So, apparently lifting heavy shit regularly has now adjusted my dress pants size up a size.
Its ok, they look really nice and my wardrobe now has two new choices in my ever-decreasing options. However, it was still a huge mental test for me to deal with, as I haven't worn that size in many years. But, like I tell my clients and friends it is just a number right? I've got to keep remembering that myself. But, do you want to know another number that I achieved on Friday? A new increase of 20# to PR on my back squat taking it up to 225! So, take that pants! As long as I consider myself a bad ass and not a fat ass I'll be happy.