1. Urban Decay 24/7 Eyeliner in "Deep End" It's fall, it's dark, it stays on through sweat and tears! If you want to be really sassy like me, I half-ass wash it off the night before an early WOD so I sort of look like I have make-up on at 5:30AM. What, that's not cute? Trashy? I try.
2. Lululemon Scuba Hoodie I can't tell you how many times I've walked by the scuba hoodie piles at Lululemon only to say "meh" to the colors and patterns staring back at me. UNTIL NOW. I feel like a walking candy cane on steriods. AND it's warm and comfy. All of the best things in life in one jacket.
3. Strength Wraps Claire let me borrow her strength wraps this weekend at the Barbells for Boobs competition. I'm sold!! Plus they come in fun colors and patterns. Dress you up in my love, strength-wrap-people.
4. Target Champion Sports Bra Another surprise. I thought I would despise working out in a padded sports spa. But I don't! It's amazing and comfortable and makes my boobs look huge. Well, compared to what they are normally. Va-voom.
5. EOS Lip Balm Katy Perry wears this lip balm. Need I say more? ROAR.
6. Custom Chuck Taylors Oh, Chuck Taylors. You've created a monster. All I want to wear during WODs is Converse. They're comfortable, SO DANG STABLE for lifting, and come in AAAAAMAZING patterns, styles, and colors. I want a custom pair but I don't even know where to start. Glitter? OK.
7. Celestial Seasonings Sweet Harvest Pumpkin tea Fall means tea. Tea means Celestial Seasonings. Celestial Seasonings means Claire's Dad invented Celestial Seasonings. I still can't get over that fact. I love all of the holiday flavors. It makes me feel like I live in a log cabin with the Sleepy Time bear. Not creepy. Cozy. If you're my friend you can expect at least 2-3 boxes coming your way this fall/winter. Best "just because" gift.
8. CHVRCHES album "The Bones of What You Believe" I know, I know. Everyone has their own taste in music and it's really annoying when people post about their favorite bands. BUT you can make an exception for this incredibly adorable band from Glascow. The lead singer is so cute I want to carry her around in my scuba hoodie. And their music makes my heart sing and dance and sparkle. Check out their new album and get ready to shake your Crossfit butt. It's happy, it's pop-y, and it kind of makes me feel like I'm in a movie montage.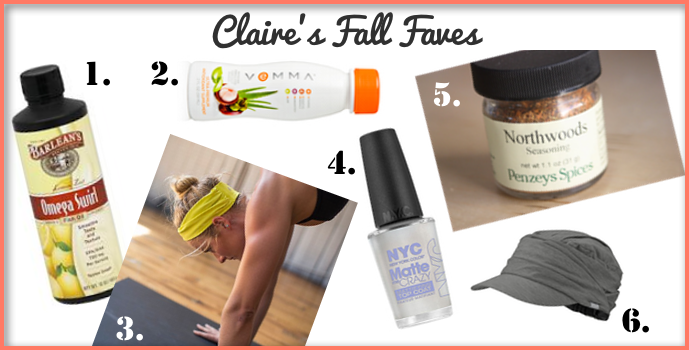 1. Barlean's Omega Swirl Fish Oil is the only fish oil product I've found that I can actually remember to take on a daily basis. The Lemon Zest flavor tastes like lemon meringue frosting, and I have it from a reliable source that the Key Lime flavor is dang tasty too.
2. Vemma
I recently started a 2nd side job with this company and am obsessed with this product. Vemma stands for "Vitamins, Essential Minerals, Mangosteen, Aloe." Basically this is just a little liquid multivitamin that is also super effective for inflammation and it tastes like the liquid version of a Flinstone's chewable vitamin (did I mention I was like a little kid when it comes to taking this stuff…).
3. Lululemon Harmony Headband
Having bangs might be the hardest part about trying to be a girl and doing CrossFit at the same time. I am obsessed with Lulu's Bang Buster headband, but I also recently picked up their Harmony headband because it doesn't bunch as much at the back and so it can double as an earwarmer for winter runs (and by runs I mean 400m laps, because it has been pretty well established by this point that I am not going to be running on my own for fun).
4. NYC Matte Me Crazy Topcoat is cheap, you can get it at Target or Wal-Mart, and it actually works! I think matte nail polish is tres chic, plus it's super autumnal (dang I love that word).
5. Penzey's Northwoods Fire Spice Blend has been going on every piece of meat in my house this month. It's especially amazing on crock pot carnitas.
6. Outdoor Research Squadron Cap
This is the perfect hat for fall hikes (or fall trips to the grocery store when you haven't washed your hair). It's a little bit warmer than a baseball cap without being a beanie, it's ridiculously comfortable, and I also think it's pretty dang cute.
Your turn!  What are you loving this fall?? Tell us and we will share some of your faves on the next podcast episode!!