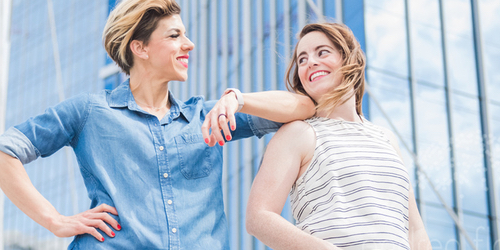 Meet Joy
Joy here! My love for the fitness community is what brings me to the world of podcasting. I love running, CrossFit, yoga, food, fashion, music, podcasts, and listening to audio books. I'm a licensed professional mental health manager for Kaiser Permanente Colorado. I have a therapy dog, JT and we are professionally trained through Canine Companions for Independence. I've been a fitness instructor for 15 years and completed my CFL1 March 2015 and CFL2 January 2017. I've won 4 Emmy Awards. I once danced in the Super Bowl halftime show with Diana Ross. I'm 41 years old. I have a twin brother in the USMC. I grew up in Mesa, Arizona. I love cheesy chick flicks, Beyonce, Backstreet Boys, and anything neon from the 80's. I love clean & jerks, double-unders, burpees, and handstand push-ups. I'm married to the coolest, smartest music/art/fashion/sports/Nike geek in the world, Scott. I believe life is meant to be fun, messy, happy, and joyful! Who knows where this journey will take us? I hope you'll stick around and find out.

Meet Claire
My name is Claire. I'm a 31-year old Front Range native, living in Longmont, CO with my baby Miles, and husband Brandon. I work as a CFL1 at CrossFit Elevation in Denver, CO and graduated with my Master's in environmental policy. I spend as much of my free time as possible in the mountains, on the river, or in the gym.
Though I never played sports as a kid, growing up in the ultra-active city of Boulder taught me to follow my instinct to explore. This instinct led me on many backpacking trips and trail runs as a high schooler, eventually taking me to the Yukon Territory for a month-long canoeing trip in college and then to Moab, Utah after college to work as a raft guide on the Colorado River. When I returned to the city after two summers on the river, I needed a new place to channel my adventurous instincts, and it didn't take me long to find CrossFit.
I love CrossFit because it has redefined the way I think of an "athlete" and also taught me that being healthy is about so much more than how you look. Even after years of being active I still never considered myself an athlete–I've never worn a jersey with my name on it, and half the time I catch the volleyball with my open mouth. But now I consider an athlete to be anyone who strives to use their body to its fullest potential by experimenting with diet, exercise, adventure, and community. Ultimately, my goals are simple: Eat Healthy, Lift Heavy, and Live Well.
Save
Save
Save
Save