Ever since middle school I was the weird fat girl. Sorta like Janis from Mean Girls but over 200 pounds. The funny thing was I just accepted that I was fat and I never tried to do anything about it. It was easy to be fat. It gave me an excuse to not have to try at anything. It wasn't until I was about to finish college that I realized I could actually change my situation. The fat part, not so much the weird part.
Over the next couple of years I lost a total of 70lbs by cutting out fast food and starting to workout. I still would't consider myself skinny like I wanted to be but I was proud of how far I'd come. It wasn't until I was about to get married in 2010 I started obsessing over exercise and 'eating right'. I'd workout 2 hours every day and eat about 1,000 calories a day of salads and Special K. I was skinny fat. After the wedding I couldn't keep that momentum up and gained 20 pounds in 3 or 4 months and it sacred the hell out of me. All I kept thinking was, "I'm going to get fat again and I don't know what to do." I decided I needed a goal. So I signed up for a half marathon even though I hated running, but it was a good challenge and it gave me something to focus on other than weight. In the months I trained I lost some of the extra weight but I knew that my training would come to an end and I would need something else to fill the void.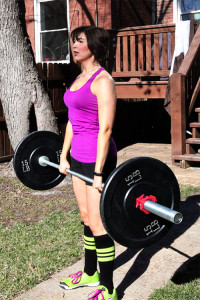 Around that time I had just heard about CrossFit at work. We were doing an article about it in the fitness magazine I worked on. It sounded like a good workout and there was a gym close to my work. I'd done the full 60 Day Insanity workout 3 times, how hard could CrossFit be? I signed up, jumped on the Paleo bandwagon, and started my first fundamentals class the day after the half marathon.
I have to say it was totally love at first WOD. It was incredibly hard, but I loved it! CrossFit quickly became my thing. The best side effect was I no longer worried about being skinny. I wanted to get strong! I also stopped obsessing over every calorie I ate and just ate real food. Ultimately, it was my love for CrossFit that drove me to follow my dream to quit my corporate advertising job to become a personal trainer. If I had never found CrossFit I'd probably still be a miserable calorie counting, cereal eating, skinny fattie.
Check out more of Kassie's journey at her blog meanrighthook.tumblr.com