It's fall! We don't really blend our seasons here in Colorado, so much as they are pixelated. This means that it can be 80 degrees one day and snow the next day, then be back into the 70s a day later. Yes, eventually snow will take over (as Claire can attest from driving through a blizzard on her way to Utah last weekend), but for now we are still wearing tank tops under our down jackets. Gotta be prepared for anything.
Fall also means boots, scarves, and Halloween costumes. We are definitely the kind of people who may or may not be thinking about our Halloween costumes juuuust a little bit all year long. But now that it's officially almost Halloween, we can bring it up in conversation without being stared at like crazies. I mean really, are you surprised?
Last but not least, fall means a fun new crop of flavors, heartier veggies, and pumpkin everything. I don't care who you are, there's just something about that first pumpkin-spice-whatever of the season that just makes your heart all warm. Fall also means SOUP! Which is amazing, because soup is just so dang easy.
With that in mind, here is a quick round-up of Joy and Claire's favorite fall paleo recipes!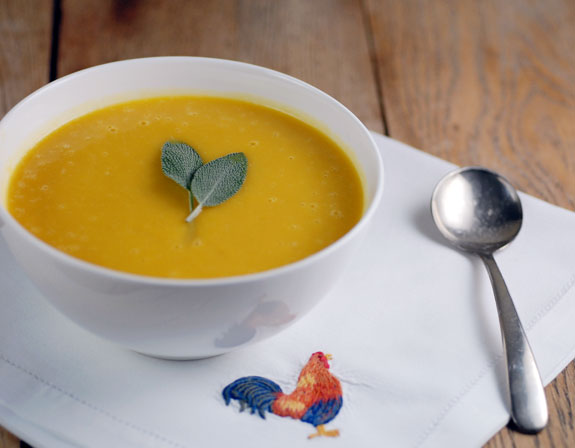 1. Butternut Squash Apple Soup from Elana's Pantry. Sometimes I use curry powder instead of cinnamon if I am craving more of a savory flavor, and it's pretty awesome.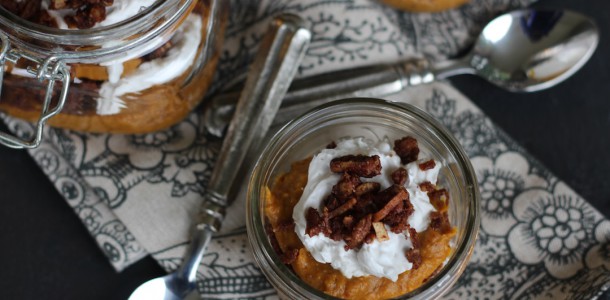 2. Pumpkin Pie Granola Parfaits from PaleOMG. So tasty and autumnal (dang I love that word!). Also, if you haven't tried her pumpkin mini-donuts yet, you really need to do that. OR, if you want a hit of pumpkin-ey goodness but don't feel like baking, I LOVE her pumpkin blueberry protein smoothie. Really, you just can't go wrong with pumpkin things when it comes to PaleOMG…
3. Beef liver with onion, bacon, and figs. I know, liver sounds gross. But Claire and Brandon are in a big offal phase, and maybe it's time for you to embrace some of the healthiest parts of your livestock, too. Start by cutting up 6-8 strips of bacon into squares and cooking it in a deep cast iron skillet. Dice the onion and figs and add them to the bacon pan before the bacon is fully done. After they have sauteed for a few minutes, slice the liver into strips, scoot everything else over, and add the liver into the same pan. Let it cook for about 2 minutes on one side, then flip it over and cook for another 1-2 minutes on the other side. Mix everything all back in to the middle and let cook for another 2-3 minutes. Voila! Tasty liver that actually mostly just tastes like bacon.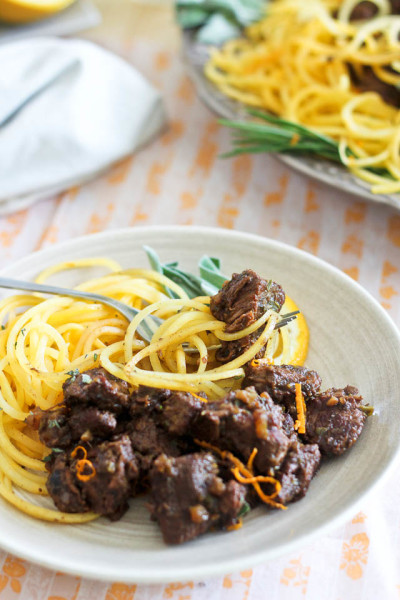 4. Paleo Orange Cinnamon Beef Stew Does it get any better than orange and cinnamon? Or stew? Or using a zoodler? Claire's favorite new kitchen tool! This just screams fall. And knitting cozy sweaters. Oh yes, Joy is a nerdy knitter.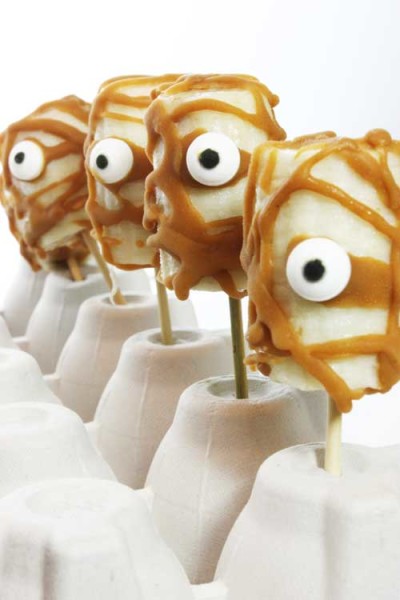 5. Banana Mummies! Joy's mom sends chocolate (not Paleo) mummy cookies every Halloween. Adorable. Who doesn't love food shaped as a monster? Banana mummies is a healthier take on her "Halloween-themed-food" obsession. Kids love it. Kids-at-heart love it. And we'll feel so healthy as we slide in to the Thanksgiving eating season!
There you have it! Fall food to get you through all of the holiday decoration madness in the stores. It's overwhelming, we know. Let these recipes take you to your happy place. We got this.